Mr Pramod Vatsalya met with a car accident and got injured in his right hip joint. After the accident he suffered from Avascular Necrosis of the head of the Femur bone. There was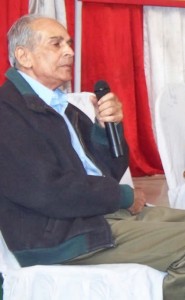 severe pain, stiffness in the hip joint, along with a limp in the leg, to the extent that he was unable to walk with ease or climb steps. He consulted senior orthopedic surgeons and was advised to go for hip replacement surgery, but he was not inclined to go for surgical intervention.
Marma therapy was started in March 2009. Symptomatic response regarding pain was observed within a few days and regular Marma therapy was provided to him. This was followed up by his own effort, with self-Marma therapy, for several months, with occasional therapy interventions by the doctor. He is now able to go for regular walks and climb stairs. Mr Vatsalya was not only hopeful but certain of avoiding any hip replacement or any other surgical intervention. He was happy to be supported in his medical position by relevant X-Ray reports.