Suffering in the world due to disease, of the body, mind and soul, is indeed enormous. In the ancient Indian tradition, the deity Mrityunjay, controls healing. The Mrityunjay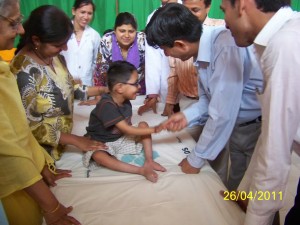 Mission, which is set up for the healing ofpeople, takes its existence from this Name.
Mrityunjay Mission is a Foundation for Vedic Medical Sciences. These medical systems are holistic, close to Nature and the nature of the human being and invoke all dimensions of healing, bodily and spiritual. Apart from Ayurveda, which is well-known, there are several other medical sciences of ancient Indian origin that are on our agenda for research.
At present, Dr SK Joshi, Founder-President of the Mission, Haridwar, India, has researched extensively, both in academic and practical terms, on the ancient science of Marma Chikitsa. He has brought it down to present times, relating it to modern medical references, having treated thousands of patients. Marma Chikitsa is a non-invasive,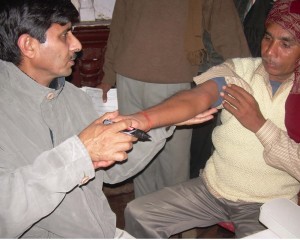 non-medicinal health intervention, invoking the self-healing powers inherent in the human being. Hence, though academic and practical knowledge resource is available, those trained to implement this science are at present only a few, and expanding the transfer of knowledge is at a seminal stage.
This website will introduce Vedic Medical Sciences, especially Marma Science and principles of Marma Therapy. It will also give Mrityunjay Mission's objectives and work's experience with Marma Therapy through its health camps and treatment centres, workshops and training programmes. Also will be exposed the relationship of the Marma system with Yoga and the technique of Self- Marma therapy as a daily re-energising system, as well as its difference from other more common therapies like acupressure.
Considering the tremendous limitations and enormous costs of modern medicine as evidenced now, we hope this website will generate interest in the holistic science of life and health developed in the great early ages of humanity and stimulate discussion on the power of self-healing that is present in Marma Science and Therapy.
Our Clinic in Haridwar
Image Gallery