Mrityunjay Mission Trust, Haridwar, India founded on 26 June 2009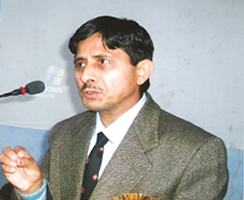 Trustee-President Dr Sunil Kumar Joshi, M.D.Ay. (BHU)
Reader and Head of Department, Shalya-tantra, Additional Medical Superintendent, Government Ayurvedic College, Gurukul Kangri, Haridwar
The broad objective of Mrityunjay Mission Trust is to work in the field of the ancient Vedic Medical Sciences, which are natural and holistic. Within this broad objective, special emphasis is to be given to relieve the suffering of humanity through the ancient science of MARMA, further developed for modern times through the inspiration and guidance of Guru Sri Swami Nigamananda, to whom this trust is dedicated.
To function as a centre for the research and training, promotion and practice of different Vedic medical disciplines like Yoga/Pranayama, Marma therapy, Panchakarma therapy, Kshar Sutra and Karna Vedhana treatment, Sira Vedhana and leech application and other para surgical therapies.
To research in herbs, herboceuticals, and other traditional health treasures
To promote planting of medicinal herbs and trees
To develop herbal/medicinal plantation
To make medicines
To distribute free and sell medicines as appropriate
To bring out publications in the field of medicine, environment and related subjects.
To distribute/sell publications as appropriate
To revive the Vedic surgical skills especially in terms of Marma Science and therapy.
To act as a centre of excellence in Marma science and other Vedic medical sciences.
To develop, promote and propagate Marma science along with Ayurveda and Yoga.
To conduct research activities in various aspects of Marma science and therapy
To provide and promote facilities for training in the field of Marma science and therapy
To standardize the methodology and curriculum for Marma science education and training
To promote Marma science at national and international levels by organizing workshops and conferences and popularizing it through print and audiovisual media.
To utilize the results of existing knowledge about Marma science for the betterment of suffering humanity
To develop collaboration between different institutions existing for these causes
Though the work of Mrityunjay Mission has been going on for 20 years the Mrityunjay Mission Trust was formally registered in June 2009.
Many years ago, there was no Mrityunjay Mission. There was one doctor, with hope and inspiration of new and effective methods of treatment for the sufferings of people. The Vedas and Vedic Medical Sciences, with their holistic attitude to health, as different from the modern medicine, provided the source for research. This research covered various allied fields of Ayurveda, like Yoga, Pachakarma Therapy, – these are well known and also little known fields like Ksharsutra and Karna Vedhana, Sira Vedhana and leech application, being para-surgical therapies. Other subjects of research were Madhu Vidya, Pravargya Vidya, Sanjeevani Vidya, and Panchamahabhoota Chikitsa. These are ancient sciences of surgery and restoration, using surgical methods, medicament and mantra, and dealing with reconstructive surgery, organ transplant, cross-grafting and various measures for reviving of different dead organs including the brain and even of persons already in a state of morbidity. These were subjects of further research.
However, what emerged as the major breakthrough was Marma Vigyan and Marma Chikitsa. Ancient texts provided the basis for academic research, which was then related to the premises of contemporary medicine. This long research spread over now about 15 years, went hand in hand with and was supported by applied research, that is, feedback from patients. Many thousands of patients have been successfully treated through Marma therapy, in various situations like hospitals, clinics and health camps. Feedback from the patients and its further application and further research and feedback, in a continuous cycle, has now resulted in a powerful body of therapeutic knowledge. As a non-medicinal and non surgical intervention, Marma Chikitsa can now deal with a wide range of diseases, including orthopaedic and neurological disorders, diabetes, anxiety, abdominal discomforts and backaches and also provide therapy averting the need for various kinds of surgery.
Innumerable health camps, administering Marma therapy, have been conducted over the last five years in several places. They began in the Uttarkashi region, around Malla, initiated by the Manav Kalyan Mission. Subsequently, the camps have spread to small and big places like Haridwar and Rishikesh in Uttarakhand, Fazilka, Moga and Jullunder in Punjab, Vrindavan, Luknow, Hathras and Agra in UP, Gohana in Haryana, and Bangalore and Mauritius. Usually the camps are for 2 days and service around 300 to 1000 patients, sometimes with routine problems, sometimes with serious problems and many times with astounding and unthinkable results. Patients are given instruction in their own follow-up by self-Marma therapy. Usually the doctor operataes with a small team of volunteers, and the entire medical service is provided free of any charge.
Also, a Mrityunjay Mission Marma Chikitsa clinic has been started in Rishikesh on a weekly basis, dedicated only to Marma Therapy. It services over 100 patients a month, handling many serious cases. Therapists have been trained locally and are supported by doctors from Haridwar.
As well as providing of therapy, there have been periodic publication of materials in various journals, as well as lectures on Marma science. Camps are often preceded by lectures on Marma Chikitsa. Lectures and workshops on Marma Science and Therapy have been held for doctors and therapists. Conferences and presentations have been made in several places in India and abroad to spread the knowledge of the self healing powers inherent in Marma Vigyan.
Publications include f articles in journals, a monograph on Marma Science for Vishwa Ayurved Parishad as well as Dr Sunil Joshi's book on Principles of Marma Science and Marma Therapy. A periodic newsletter, Mrityunjay Pravah covers our activities, notes on Marma Science and Vedic Medical Sciences and case studies.
One of the major tasks in the plans of Mrityunjay Mission is the development of training programmes for creating more trained marma scientists and therapists so that its benefits can have a wider reach . Though dedicated volunteers have serviced camp situations, and served family members and community members, there has been no systematic training, both in therapy as well as its academic foundation. We are now entering formal training as an activity. Informal and individual training has been going on for years as a result of which some doctors and therapists are carrying on the treatment through Marma Chikitsa. However, the first formal basic level training course for therapists was organized over one week in Kankhal, Haridwar in November 2010 where around 30 participants were equipped to deal with daily self-marma technique as well as common diseases. They were also given a brief academic foundation in the origin of marma and its basis, Anatomy and Prana.
We intend not only to provide these training courses, but also to devise courses that may later be adopted by or introduced in, the mainstream medical education, both in Ayurveda and modern medicine, as well as in Yoga centres.
However, to provide marma therapy at any depth, there is an important, unique but difficult aspect of Marma chikitsa that has to be remembered. It is an ancient science, and in this science there is an underlying principle that if it is commercially exploited, if the therapy is administered involving any commercial gain, then the therapy yields no result and in fact, harms the practitioner. It is to be noted that all services in marma provided by Mrityunjay Mission is free of charge. Ancient principles, though accepted by doyens of traditional knowledge, even now, may appear illogical and superstitious to the modern mind. Yet, this principle, that successful therapy depends on no expectations in a mode of selfless service, –this principle is based on subtle spiritual and psychological understandings, not easily apparent and therefore, it still has to be honoured. So, in this task of designing and providing training, this indeed is a challenge, to build in this understanding among the learners and would-be practitioners, that marma therapy must be a voluntary offering or a voluntary component augmenting a regular medical practice.. This requires understanding, commitment and dedication on the part of those to whom the training is to be imparted.
In this context, we would like to say that we very much hope to set up our own training, therapy and research centre, where a team of committed people can be trained in a discipleship mode, and patients may also come here and benefit.
The work of Mrityunjay Mission is dedicated to reviving, refining and putting to use these medical sciences for the betterment of suffering humanity—-for the healing of people. For this, medical treatment is the main vehicle. But it has to be backed by research, and then the fruits of research have to be passed on through an ever-expanding transfer of knowledge, that is, training. Thus treatment, training and research in Vedic Medical Sciences– these are, in brief, the aims and objectives of Mrityunjay Mission.