The fourth training workshop on Marma Science and Marma Therapy was conducted between 21-25 April 2012 at the premises of Vishwa Kalyan Sadhanayatan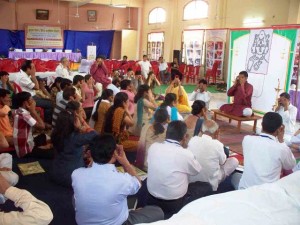 Ashram, Kankhal, Haridwar. The inaugural function was presided over by Sri Swami Hari Shankar Giri of the same Ashram where a Marma Chikitsa Courseware prepared by Mrityunjay Mission for the Bharatiya Vidya Bhavan, New Delhi Marma Training Course was also released. Chief Guest Dr Vishnu Datt Rakesh, scholar of Vedic Sciences gave an enlightening speech on the suggestion of Marma Vigyan being implicit in ancient religious texts.
The training workshop had 35 registered participants, apart from 25-30 students from Patanjali Yogpeeth and Gurukul Kangri Vishwavidyalay, Haridwar. Among the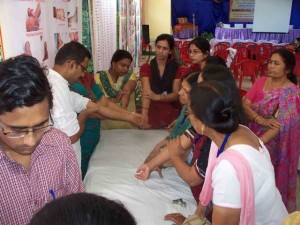 trainees this time, there were a batch of 7 persons from Russia ad Ukraine who made a dedicated effort to learn the practice of marma despite language barriers. There was a lady participant from Malaysia and an Indian Ayurvedic doctor based in Germany.
Acting according to previous training programmes, the practical sessions were doubled for the sake of greater proficiency. Also the Russian team was dealt with separately as were the 7 doctors attending the workshop. The early morning session of Achara Samhita with training yogic practices, self-marma therapy and chanting of Mrityunjay mantra for the excellence of the trainees was enriched by the inspiring and informal knowledge imparted by Dr Sunil Joshi.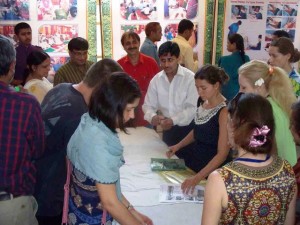 Trainees had a first-hand experience of treatment through marma therapy as a time-slot was provided for patients after the formal training sessions. At the end of the training workshop a Certificate of Participation was distributed to the participants at the valedictory function presided over by Dr Gyanendra Pandey, eminent Ayurved.
The workshop was supported by the dedicated voluntary service of members and associates of Mrityunjay Mission.